ICL are currently doing a great offer on Ryder to go in the tank with our fungicide applications that's well worth taking a look at.
On the back of this leaflet you'll see some data from a trial we did at the Irish Sports Turf Institute in 2018. In this trial we did some work using Ryder in a tank-mix with A19188b (a product we have in the registration process), Instrata Elite and Medallion.
The trial took place in Dublin, Ireland on Poa annua greens of push up construction and showed what control can be achieved with a well timed fungicide programme.
The addition of Ryder added significantly to the colour of the turf which is what you would hope from a pigment. At this time of year the turf growth was slowing too so the longevity was excellent.
It was great to see the additional turf quality achieved at the same time. The turf quality remained high throughout the winter and although the last application of Medallion was on the 17th November we saw the advantages gained through the autumn last long into the spring.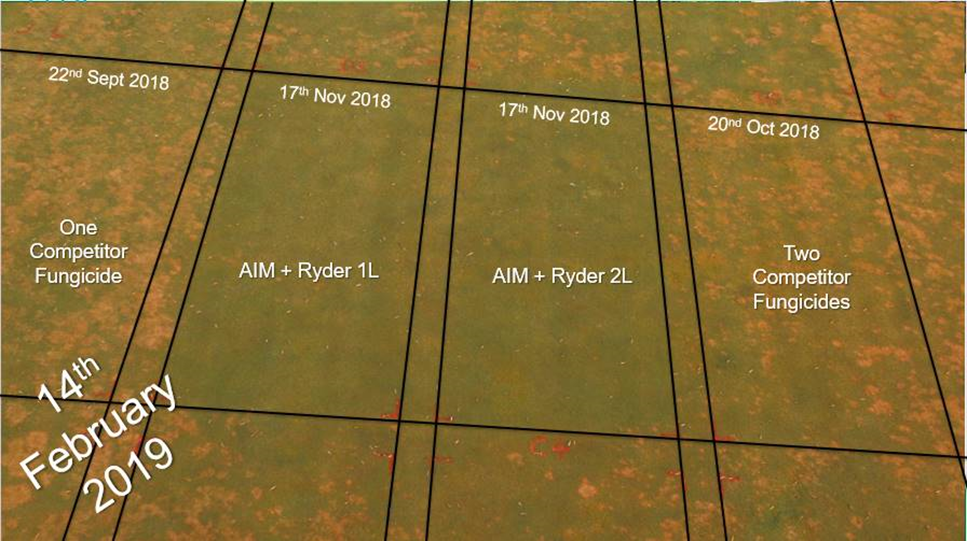 The above image show the turf quality and colour benefits on the 14th February - 3 months after the last application.
On top of the improved turf quality and colour we saw disease kept to an absolute minimum from the three fungicide programme.
The ICL offer gives you a great opportunity to try out this fungicide and Ryder combination. Make sure you give it a go in your ITM programme , and let me know how you get on.